Everywhere you go on the internet, people can't stop talking about AI, and for a reason. If you're a creator and have been wondering if AI will replace you, put that fear away.
If anything, it should act as your assistant, doing all the mundane stuff for you. From refining your ideas to quickly editing your long-form video content into short-form content for socials, AI today is transforming content creation.
In this post, we're sharing our top 5 AI tools that aren't ChatGPT. 👇
Lumen5: If you're a writer or a creator who predominantly focusses on written text and want to get into video content creation, Lumen5 is a great tool to start with. Lumen analyze our content and creates a customizable storyboard with video clips, images, and music. Content creators can use it to create quick videos without requiring any video editing skills.
Take a look at how Lumen5 works. 👇
Cost: The basic plan is priced at $29/monthly and the premium plan goes upto $199/monthly
Why we recommend: Even the basic plan allows you to create unbranded videos and offers access to icons, stock images, and automated captions. A great value for that price point.
---
Soundraw: If you edit or work with video content, you already know the pain of finding the right music. We don't have to elaborate. That's where Soundraw comes to the rescue.
Here's how this works: enter the mood, genre, length, and the tool will generate an ideal song for your video. And the best part? This is entirely royalty-free.
Cost: The free plan generates songs, and the premium is priced at $16.99 upwards.
Why we recommend: Makes your life easier and choosing music for your video is super effortless. Plus, it's quite affordable…or free.
---
Writesonic: Writers can find solace in Writesonic because it allows crafting search-engine-optimized content for a range of content types. From blog posts and newsletters to digital ads and social media content.
Writesonic has a solid Discord community where you can also interact with fellow writers and copy specialists.
Cost: The basic version is free and the premium is priced at $12.67 for a user and allows churning 60K words.
Why we recommend: For its awesome features like landing page generator, paraphrasing tool, and a slew of free tools like CTA generator, AI chat assistant, etc.
---
Recast Studio: Recast Studio is a pretty killer tool that breaks down your podcasts into chunks of short-form content. If you don't have a video editor on your team or want to create teasers for your podcasts — you should check out Recast Studio.
Recast builds both video and audio clips (like Descript), and based on the platform your audience is on, you can figure out the medium.
Cost: Starts at $22 and goes upto $149 for monthly plans; there's a free plan too.
Why we recommend: If you're a beginner or looking for quick short-form edits, this one will do the job without burning a hole in your pocket.
---
Hotpot.Ai: Killer graphics, anyone? Hotpot is an AI tool for graphics, pictures and enhancements. Creators can choose from aange of customizable templates and add text, images, and music or pick from a library of licensed content. The platform also provides a voiceover tool to add narration to the video.
Watch how The Money Guide is playing around with Hotpot. 👇
Cost: Hotpot is free but you must purchase credits if it's for commercial usage; the monthly credit plan starts at $10.
Why we recommend: It's got a hoard of templates, going beyond Canva. Plus, its resource library is quite exhaustive.
So, those were our top 5 picks for AI tools. Which one caught your attention? Tell us in the comments below.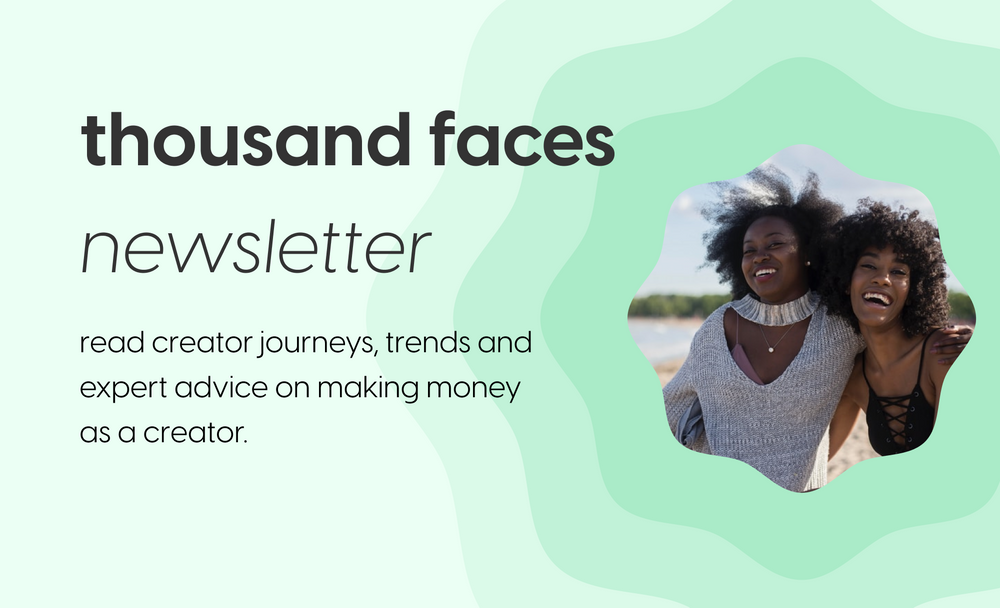 Thousand Faces Club - Newsletter
A biweekly newsletter on creator economy
Subscribe to newsletter