As we sit to write this edition, we're entirely consumed by Met Gala memes. Do you have a favorite meme?
We've got some and we've made an Instagram carousel out of them. 🙈
That said, we're brewing quite a bit, which we'll talk about — but first, here's a primer on top updates in the creator economy. 👇
Quote of the week: Antoine de Saint-Exupery on creativity
News that caught our eye: Chipotle's creator-inspired menu breaks sales records
Opinion: Can #Booktok rescue indie bookstores?
---
Antoine de Saint-Exupery on Creativity
Not everything has to be perfect. Not everything has to be flawless. Perfection really doesn't lead to creative stuff. And that's what Antoine de Saint-Exupery says. 👇

---
Chipotle's TikTok-Inspired Menu Additions Breaks Records
TikTok-inspired Fajita Quesadilla, anyone? 😍
In March 2023, Chipotle introduced two additions to its menu, thanks to two TikTokers, Keith Lee and Alexis Frost. Frost and Lee's quesadilla hacks — adding fajita veggies to quesadillas and honey vinaigrette dressing as a side option — have gone viral on TikTok. 🔥
Chipotle, as always, listens to its community and added these two options to its menu. And this broke the sales records!
According to Business Insider, "The results have been outstanding," CEO Brian Niccol said during the company's first-quarter earnings call on Tuesday. "During the launch, we nearly doubled our Quesadilla business and had two of our top digital sales days of all time."
Chipotle is also eyeing more food trends and hacks to attract more diners, and TikTok will play a significant role.
Read more about it here.
---
Can #BookTok Rescue Indie Bookstore?
We've spoken about BookTok and Bookstagram quite a few times, and if we haven't made it clear enough: we dig this trend.
Social media is often considered a book's biggest foe — but TikTok (or should we say BookTok?) is changing this narrative. While TikTok users are discovering great titles, bookstores have introduced a 'BookTok Made Me Buy It' section. According to We Forum, US readers bought 825 million print books in 2021, setting the highest record since 2004. What's interesting is that even Will Smith jumped into this trend and shared his reads.
BookTok has built a community of readers involving conversations beyond just books — nope, it's not just Colleen Hover they're invested in; they've built lives around BookTok. Remember early Blogger days (If you're a millennial, you would)?
But can it save indie bookstores from shutting down?
On April 29, on the occasion of Independent Bookseller Day, as declared by the American Booksellers Association (ABA), both ABA and American Express teamed up to celebrate BookTok and indie bookstores.
Readers (AmEx users) who shopped at indie bookstores were given a $25 gift card that can be used towards their next orders at these stores. In its feature, Tubefilter said, "A press release discussing the partnership cited the popularity of the #BookTok tag, which has received more than 130 billion views on TikTok. As big-box retailers continue to reduce indie booksellers' collective market share, TikTok users are priding themselves on their ability to support locally-owned vendors. According to AmEx's 2022 Shop Small study, 73% of Gen Z and 67% of Millennials seek out small businesses on social media."
---
👀 What's Brewing Hot?
Worried about the potential TikTok ban? Later has published an informative piece on how you can back up your data if the ban materializes. Read it here.
Meta and TikTok are doing stuff to strengthen the connection between brands and creators. Find out more here.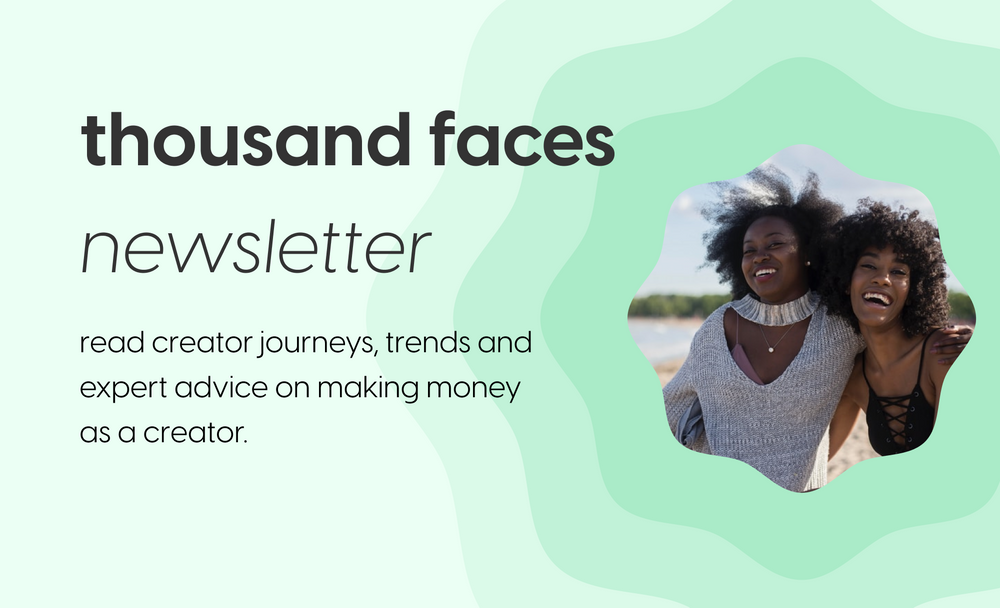 Thousand Faces Club - Newsletter
A biweekly newsletter on creator economy
Subscribe to newsletter