You know what doesn't come as a surprise to us? When we look up the trending topics in March and April on SparkToro, GPT4 and AI are the dominating conversations.
Is the world obsessed with AI right now?
We can't help but wonder! In one of our older newsletter editions, we explored this conversation. Check it out here. 👇
And on that note, let's go through our weekly round-up of happenings in the creator economy.
Words of wisdom: Aaron Sorkin on creativity
News that caught our eye: MrBeast teaches a class at Harvard
Productivity hack: Listening >>> note taking
Baby steps: Creatives sharing their early work
---
Aaron Sorkin On Writing & Creativity
Trust Aaron Sorkin to always offer great advice on writing and creativity! ✨
A writer behind many fantastic movies — Sorkin was recently at Adobe Summit, where he spoke about content creation in the time of advanced technology.
While he shared great advice on writing and drama, something he said about technology can reassure most creators who are worried AI might replace them. 👇

He says this attitude stems from him sitting in a room with technology experts and not knowing anything. I feel left behind, he adds.
You can watch the conversation here.
---
MrBeast Teaches a Class At Harvard
Across the world, many content creators are teaching classes at various universities, but MrBeast teaching a class at Harvard is what the internet can't stop talking about. 🤯

He announced this on Instagram saying, "I taught a class at Harvard which is pretty funny because I dropped out of college after only going for two weeks haha."
Dressed in a black sweatshirt and ice-wash denim (resembling Steve Jobs, MrBeast said, "I also didn't purposefully dress like Steve Jobs, this was my only pair of jeans and it was cold so I wore a crew neck 😂."
So, what did he teach, you ask? He taught Harvard Business School about his business empire, and from the looks of his Instagram post, it looks like he discussed brand and audience building, brand deals, monetisation, philantropy and gaming.
Do you think this is a one-off session, or might Harvard introduce a series of lectures?
---
Listening Over Note Taking
Are you a compulsive note-taker? What's your focus during a meeting: listening or taking notes?
Ever wondered what happens if the tools we rely on stop working one day?
In this video, Tiago Forte shares his productivity hack and the importance of listening. A must-watch. 👇
---
First Acts: Creatives Share Their (Very) Early Work
This piece by Matt Alagiah on It's Nice That is one of the most beautiful things we've read this week. 😍
Matt spoke to 4 illustrators and artists to understand their early work and journey, and while all those artists share their early work, what makes this piece heartwarming is the personal stories the artists share.
If there's one thing you should read today, let it be this.
---
👀 Brewing Hot
Is Yubo the new TikTok alternative? Find out here.
Pinterest intends to make its platform a safe space for teens. Here's how it plans to do that.
Sooo VidCon dates are out. Check out this feature to know what the line-up looks like.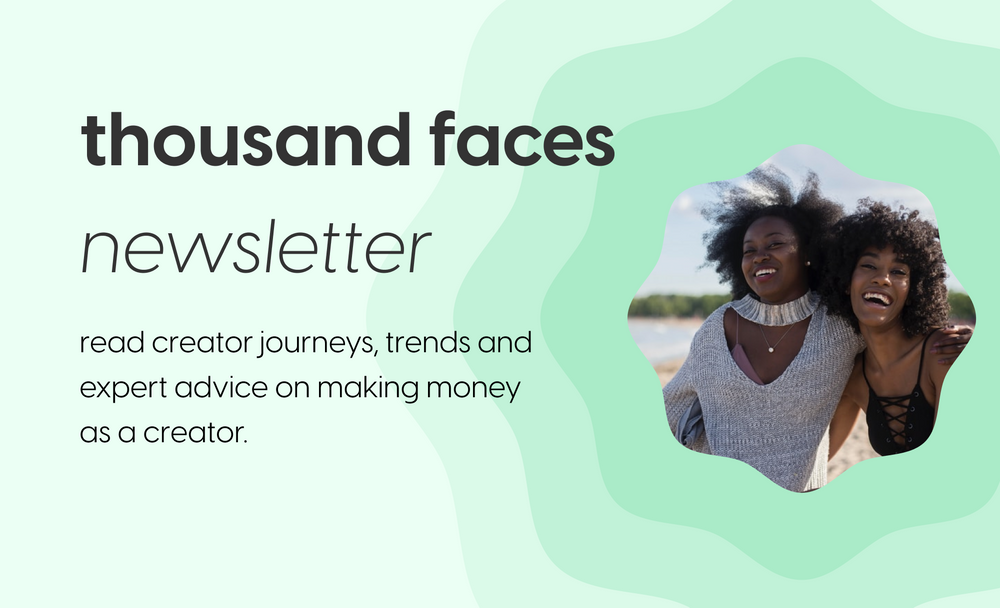 Thousand Faces Club - Newsletter
A biweekly newsletter on creator economy
Subscribe to newsletter