There has never been a better time to build for creators
In 2021, in the US alone, over $6 billion was invested into the creator economy. The first quarter of 2022 saw this funding drop by 30% for the first time. VCs are more focused on robust unit economics and profitability than vision and growth metrics alone. With recent economic shifts, the market for building any kind of startup has become increasingly difficult.
Because of their low purchasing power, building for an audience like creators can feel like a tough sell in the best of times. Add inflation, job losses, and rising interest rates into the mix, and building for the creator economy became even more challenging. That being said, between advancements in AI, new platform creation, and changes in how people view work in a post-pandemic world, this is surprisingly the best time to start building for creators.
The $100+ billion creator market as we know it today
Speaking as both an active creator and founder, we are at the crossroads of significant inflection points that can turn this into one of the highest-growing markets. However, before understanding what breakout markets can be created, it's essential to start by laying out the current market size and the areas that show the most promise for founders.
Market sizing is a hot topic in the creator economy due to how different audiences define a creator. Linktree's latest creator report estimates the total addressable market consists of 200M creators, 500M passion economy users, and 4.2B social media users. The total creator economy market is estimated to hit $104.2 Billion in 2022. It has a growth trajectory similar to the gig economy, with the number of creators up 48% year-over-year. These creators are split across full and part-time, with 47% full-time, 43% part-time, and the remaining 10% consider it a hobby.
Another indicator of growth is the growth of the subcommunities of the creator world. Fed, the founder of GummySearch, shared that they have seen the following creator-related communities grow by an average of 51% from January 2021 to June 2022.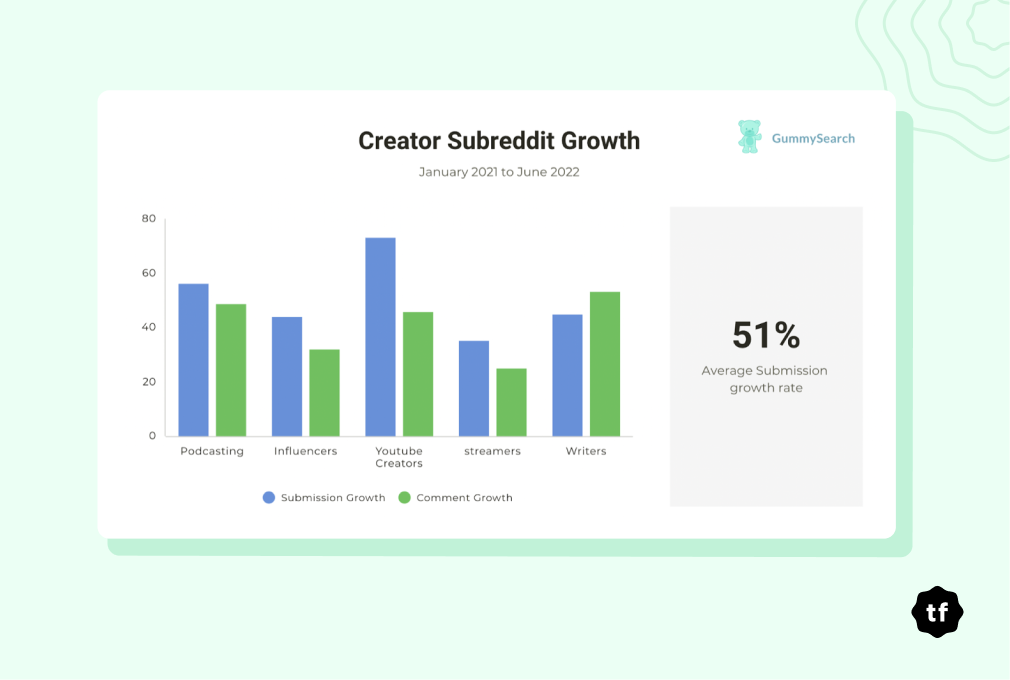 An exhausted population drowning in a sea of tasks
With rapid growth comes severe growing pains! On conducting original research with 150+ creators to understand their biggest challenges, 4 themes emerged: content creation, audience growth, monetization, and operations.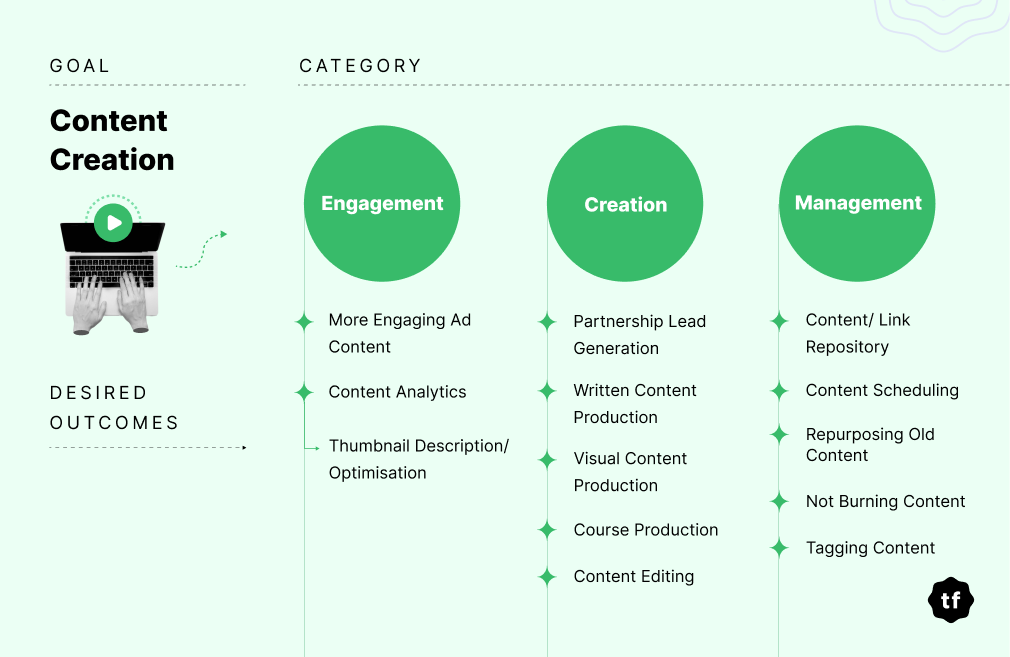 Content creation: Content creation and audience growth stood out as a priority for creators in every conversation. Most creators think those two are tightly-coupled and that key to growing is by constantly creating new content and cross-promoting across top platforms. Like SaaS companies, creators are looking for better feedback loops and systems for creating consistent value for their audiences.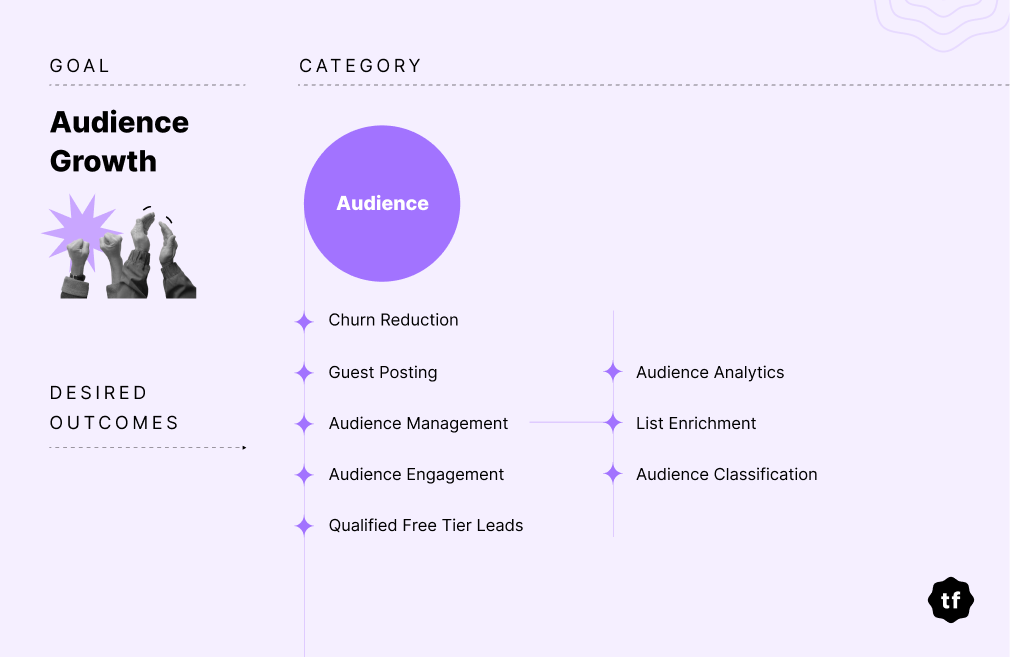 Audience growth: Creators who prioritized having more control over how they reach their audiences (e.g., newsletter subscribers, course participants, etc.) were concerned about understanding who their highest-value customers are and where to find more of them. But creators who operated primarily on social platforms faced a more complex challenge in growing their audience. For these creators, their growth largely depended on 'feeding the algorithm' the right content.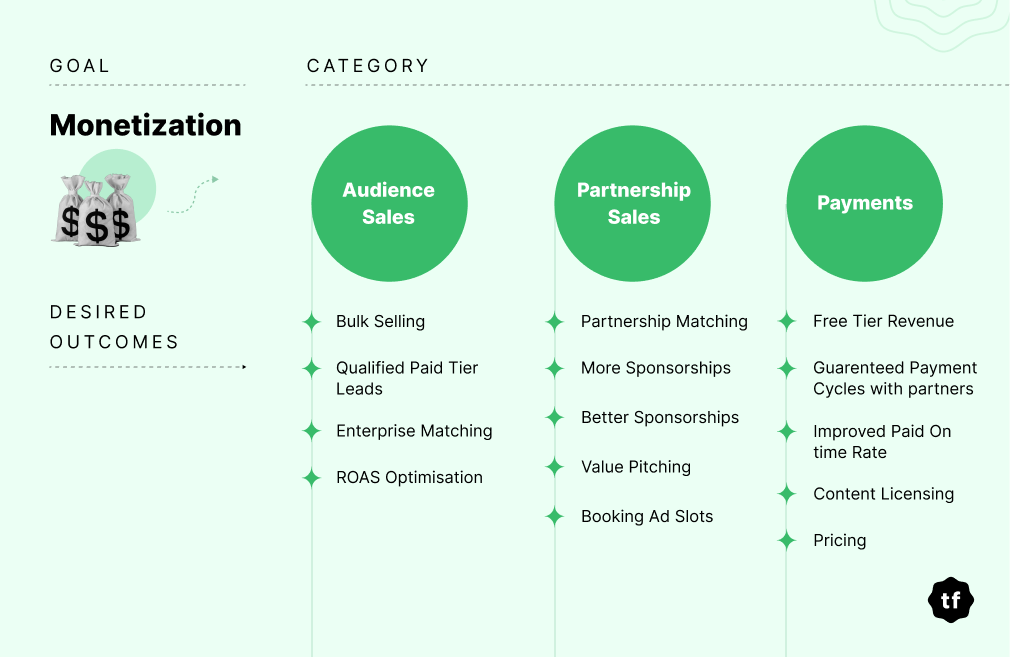 Monetization & Revenue: For most creators, finding sustainable solutions to monetize is a significant challenge, particularly for creators that don't receive money directly from their audience for services. Partnerships, advertising, and creator funds have become lifelines for many creators that rely on their influence for income. As creator funds dry up, these creators have begun looking for ways to diversify and derisk this dependency.
"Most companies have rushed to solve for the top 1% of creators. At this stage, the top 1% do not have trouble monetizing as agencies/brands reach out to them directly. The focus needs to shift to the middle-class creators." — Akhil Bhiwal, the co-founder of Phyllo
Despite resembling and behaving like an entrepreneur, they don't get a share in the upside of what major platforms do. Even the most successful creators get rich with cash, but in tech, builders get an upside by owning equity.
Li Jin, Founder of Variant Capital, talked in detail about how some of today's most significant challenges facing the creator economy are ownership and equality. There is a concern that without action, it can quickly become a place where people producing value receive very little in return — ultimately mirroring the same trends we saw in the gig economy.
Despite resembling and behaving like an entrepreneur, they don't get a share in the upside of what major platforms do. Even the most successful creators get rich with cash, but in tech, builders get an upside by owning equity.
Li Jin, Founder of Variant Capital, talked in detail about how some of today's most significant challenges facing the creator economy are ownership and equality. There is a concern that without action, it can quickly become a place where people producing value receive very little in return—ultimately mirroring the same trends we saw in the gig economy.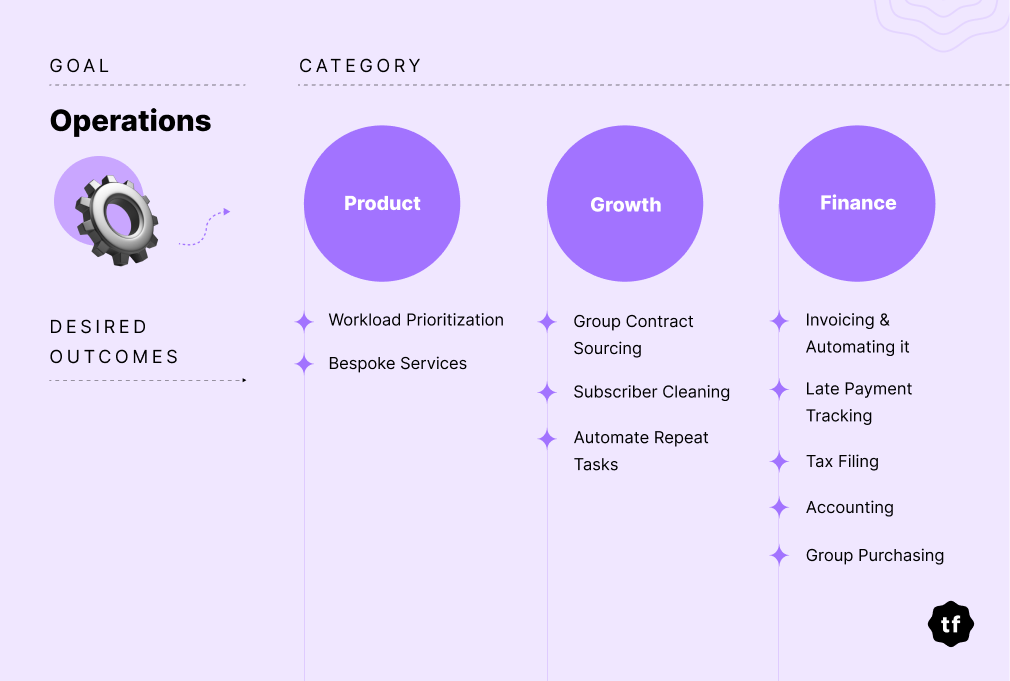 Operations: Creators who charge for services, content, courses, etc., expressed they need the most help with automating the painstaking process of running a business — accounting, taxes, and tracking payments. Interestingly, aside from payment tracking, creators who relied on their influence for monetization didn't raise many other operational challenges.
This research represents a sampling of the problems that creators face, but defining the market's needs is becoming more complex over time. Dan Runcie's post about the levels of the creator economy highlights how, as this market evolves, new segments will emerge with unique needs.
What is clear from this research is that this is a seriously neglected audience that need direction and support to accelerate growth.
The Creator Manifesto explains how 65% of creators feel overworked and underpaid, and 89% are interested in a new, radical way of building a business. With 80% of creators working alone, it's also no surprise that over 61% of creators reported experiencing burnout in 2021. This compounds the point that the current way of operating as a creator isn't sustainable, and changes are badly needed.
Startups that are democratizing skills and tools for creators
Most of the challenges that creators face are similar to the ones that SaaS companies experience: increasing qualified leads, reducing churn, audience retention, and improving feedback loops on value propositions. The difference for creators is that they have neither the tools, resources, nor expertise to operate each stage of the customer lifecycle. Creators are most similar to freelancers in that they typically have a core skill set in which they are selling. However, creators are selling their content like a SaaS company sells a product, i.e., they are selling an output that can scale versus selling their time alone.

One of the best examples to illustrate how existing tools can be made more accessible in the creator economy is Canva. Canva's founder Melaine Perkins believed that it was possible to make the complex simple in a way that could empower non-designers. Back in 2012, before Canva, to access tools like Adobe's Standard Design Suite to design something as basic as a flyer would have cost you $1,299. Compared to today, where a team of 5 can use Canva Pro for less than $10 per month.
Guy Kawasaki, who joined the Canva team in 2014, stated, "I think Apple democratized computers and Google democratized information, and now Canva is democratizing design."

Below are just a handful that are democratizing skills and tools for creators. 👇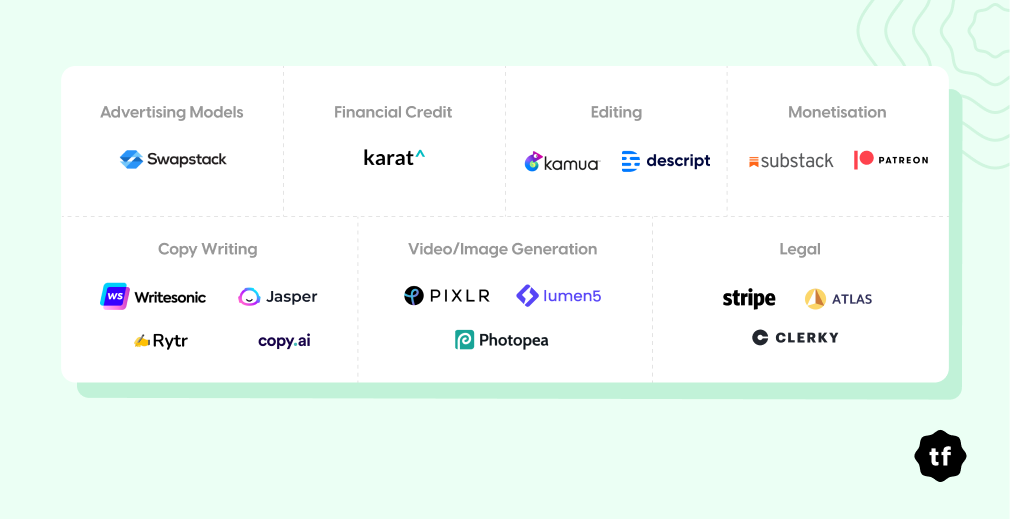 Three inexorable trends are combining, and the creator boom is just beginning.
What makes today different from any other time in history is the number of inflection points that can be leveraged to create new markets. Three compelling examples are the rise of new platforms, AI, and the move to remote working.
New platforms & formats are creating new markets: Platforms are being created across diverse verticals in the creator economy. As each new platform is born, with it comes the opportunity for creators to make a sustainable living. Podcasting, newsletters, and gaming are some of the most prolific examples. Substack and ConvertKit took the nascent paid email and turned it into its market.
Podcasting has also drastically changed. Mark Moriarty, the founder of Awesound, explains, "As recently as a few years ago, the barriers to create a podcast were high: one needed to understand how to record quality sound (learning about mics, preamps, audio processing), tediously edit, and navigate a choice of podcast hosting services. However, now there are a plethora of solutions that have completely removed tech as being the barrier to getting started. Thus, allowing creators to focus their attention on the content."
Another platform with massive potential is the Metaverse! It is predicted to have a market size of $678 billion by 2030. Taking the virtual gaming platforms driving the Metaverse, for instance — the idea of shared virtual worlds has already existed for three decades in the gaming industry but is now poised for wider adoption as more people spend their social time in them. Adam Waselnuk, the founder of Sword & Source, explains, "the Metaverse is a wide-ranging concept, but you can understand its immediate potential by seeing it as a blend of social media, video games, and blockchain infrastructure."
This is relevant for creators as there is an infinite amount of content needed to support open-world video game development. Roblox, as one example, paid out over $500M to its creators in 2021. Waselnuk explains that every shared world company must become a platform that makes its users the creators and gives them the tools to build with. The creator economy is destined to grow here, with new creators coming online and experienced ones moving into new channel opportunities.
AI is making creators faster and more efficient in creating content: One of the key drivers to making specific opportunities feasible, like filling virtual worlds with infinite content or making skills like copywriting accessible to anyone, is the latest advancements in AI.
Gartner predicts that by 2025, 10% of the data created on the internet will be created using Generative AI technologies. Furthermore, some predictions say that by 2030, 90–99% of the data on the internet will be produced with the help of Generative AI technologies.
Gaurav Nemade, ex-Google AI Product Manager, shared that the top categories of AI companies to look out for in the creator economy are Video, Text, Image, Video, Speech, and Music generation.
Below are some of the use cases and companies in these categories. 👇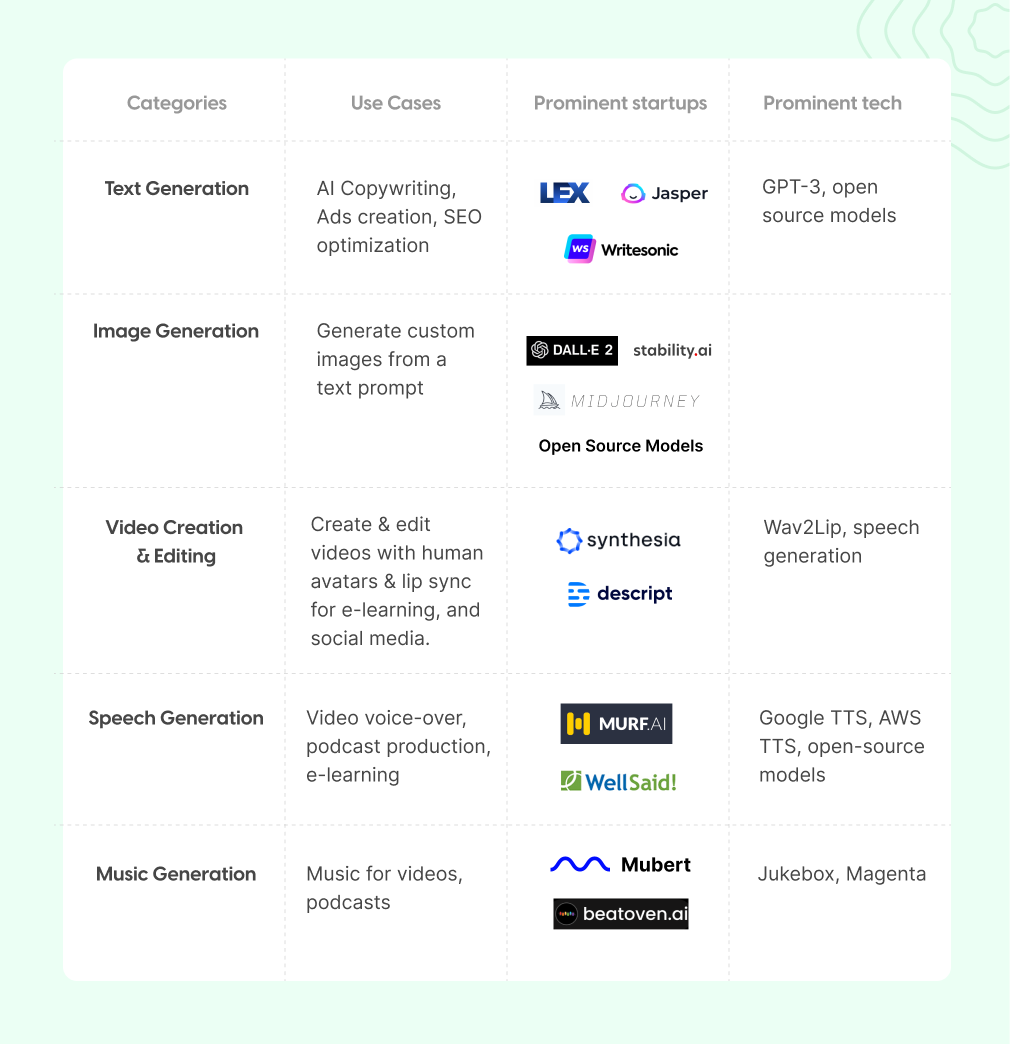 These technologies will create new opportunities and challenges we can't anticipate today. But it's clear they have the power to give creators leverage that they never had before.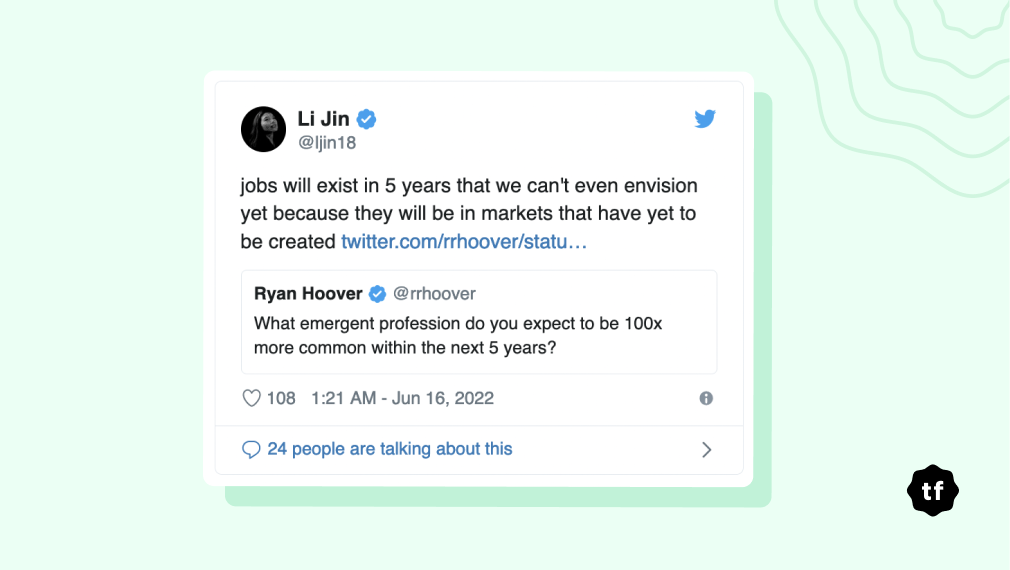 Rise of fractional working and recent job layoffs: The pandemic and current economic shifts have transformed expectations of how we want to work and live. The removal of barriers to entering the creator economy is realigning how people consider their future work. Desiree Kitsmiller, a medical school graduate and part-time fitness/lifestyle creator, said, "I plan to grow revenue from my fitness account to the point that I can split my time equally between creating content and being a medical professional."

There's never been a better time to build for creators
Yes, current economic factors have shifted, but some of the most successful companies have come from the most challenging economic times. Paul Graham from Y-Combinator, said in 2008, "If you're worried about threats to the survival of your company, don't look for them in the news. Look in the mirror."
The creator economy is not going away anytime soon. It is important to note that this is still an audience with a lower purchasing power than most SaaS companies. It is not that creators want to pay for more tools; what creators are in desperate need of — and will pay for — is a more sustainable way to grow and monetize. If we, the founders of this space, dig deep and listen to these evolving needs, we can create the leverage that allows this market to reach its full potential.
To dive deeper into the stats and trends shared in this article, we've created a curated report of key readings and reports, that have been shared in the creator economy. 👇
— Ian Johnson, co-founder of Lasso,  a platform that uses AI to help SaaS companies discover and measure paid partnerships with Content Creators. Ian also runs the newsletter Founding in Public which explores the journey of building a startup in public.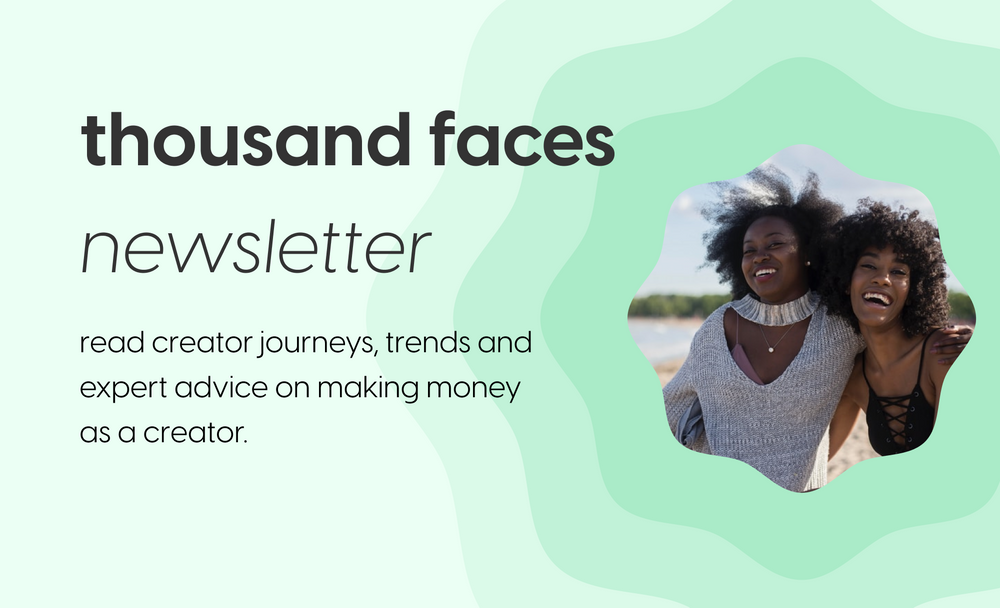 Thousand Faces Club - Newsletter
A biweekly newsletter on creator economy
Subscribe to newsletter