"I'm watching this because I can't get enough of its OST on Reels," said someone at the cinema hall while I was watching Makoto Shinkai's latest, Suzume.
It's incredible how a 30-second tune holds enough power to drag you to movies today! You may not remember an artist's name or the lyrics of a song — but you foot tap to that lean part of the song that went viral on TikTok or Reels.
This brings us to the conversation: are musicians composing music to go viral on Reels now? 🤔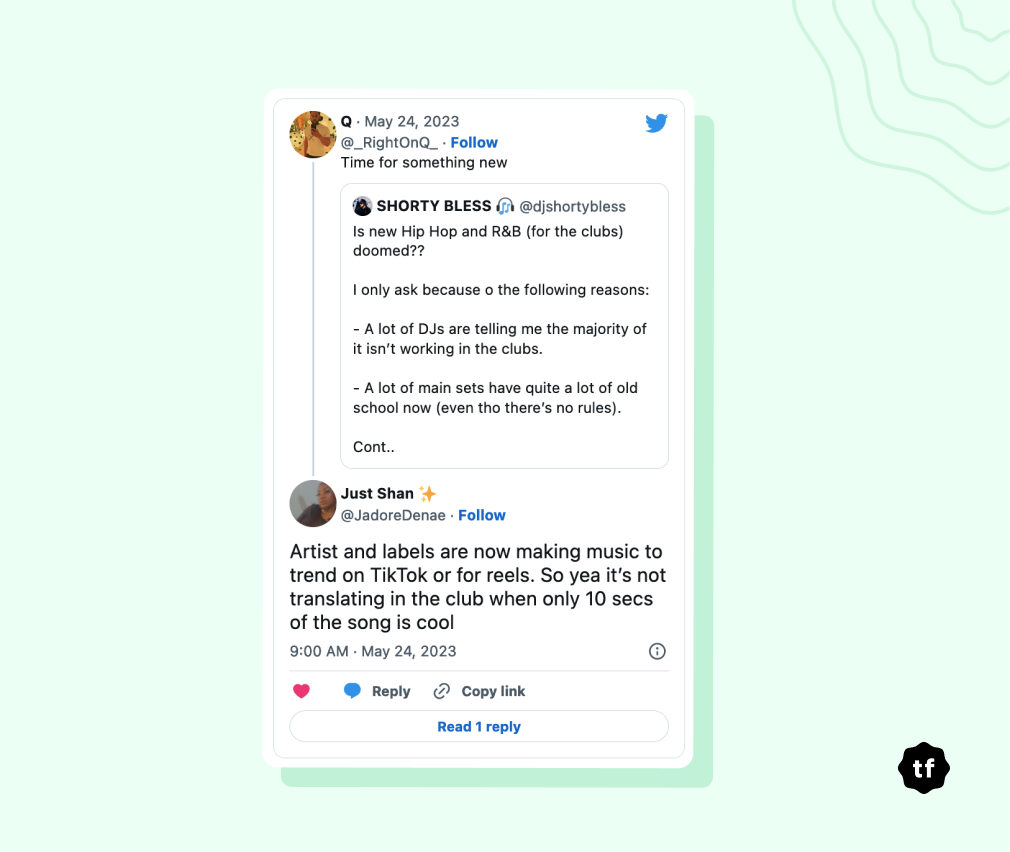 According to TikTok's annual report (2021), 175+ songs that trended on TikTok hit the Billboard Hot 100. This number is twice higher than 2020.
Success on Socials ➡️ Success Outside Socials
Say So by Doja Cat was released in December 2019, but it was the fifth-most used song on TikTok throughout 2020. Say So's hook step became so popular that celebrities like Dua Lipa, Laura Dern, Charli D'Amelio, Mackenzie Ziegler, and Sofia Wylie embarked on this trend. This traction resulted in radio features.

And then, there's Blinding Lights by The Weeknd! After going viral on social media, the song saw roaring success on streaming channels like Spotify and Apple. It was on Billboard Hot 100, and The Weeknd even performed it at the Super Bowl Half Time (2021).
Despite an old number, Fleetwood Mac's Dreams scored high on charts in 2020 when Ocean Spray Cranberries (a brand) collaborated with a TikToker Nathan Apodaca to recreate his already viral TikTok which featured Dreams. Read more about it. 👇
Content creator and comedian Viraj Pradhan says, "Today, you classify a hit song only when it goes viral on Reels. These songs usually feature 15-second hooks and dance for internet users to recreate them. Content, in general, even TV shows and movies, cater to virality on Reels."
Recommended read: How to promote a song on TikTok
Shephali Bhatt, an internet culture reporter at The Economic Times, in her piece Music in the time of algorithm, writes, "Artists and labels overwhelmingly agree that a clip trending on Reels often leads to a sharp increase in traffic for the song on streaming platforms, boosting earnings. And a clip trends because of the much-talked-about algorithm."
Talking about Platforms
I spoke to Sana Afreen, Chief Content Officer at Rizzle, an AI video tech platform which was initially a short-form video app. Sana says, "When Rizzle was a short-form video platform, we did work with creators to produce music albums. Music played a vital role in the App. We were associated with music entities and individual musicians. Tony Tarz exclusively created Aardukyam for Rizzle, which later was used in over 100K Reels. Music licensing has gotten huge following TikTok's implosive success. Besides, music is the oxygen for short-form video platforms and Instagram — hence, the entities had the pricing surge accordingly."
A CNBC article states that in terms of the current flow of dollars in the music industry, TikTok's main influence lies in its ability to push listeners to services like Apple Music and Spotify. TikTok has partnerships and licensing agreements with major labels such as Universal, Warner, and Sony. The article mentions these were signed between 2020 and 2021.
Also read: Songwriters aren't getting paid enough and here's why
Who's to Blame?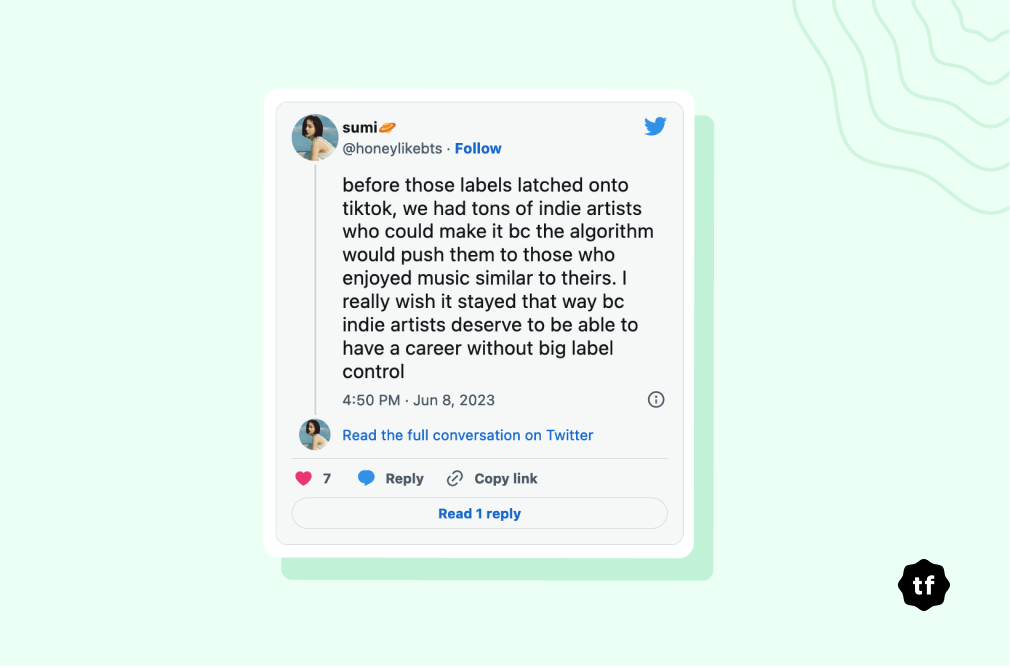 Internet users? Algorithm or the artists?
Basudhara Choudhuri, a qualitative market researcher at Purple Audacity, says, "I think it is a combination of internet users and recording labels. I can't really blame musicians for wanting to push their music. I think the hope is if they can hook new listeners through a few viral songs, they will explore more of their work. Recording labels often demand an "Instagrammable" section, I think, which means musicians have no choice but to bend to the will. Can Internet users perhaps support their favourite artists more without only needing reel-worthy music? I don't think it's impossible to do."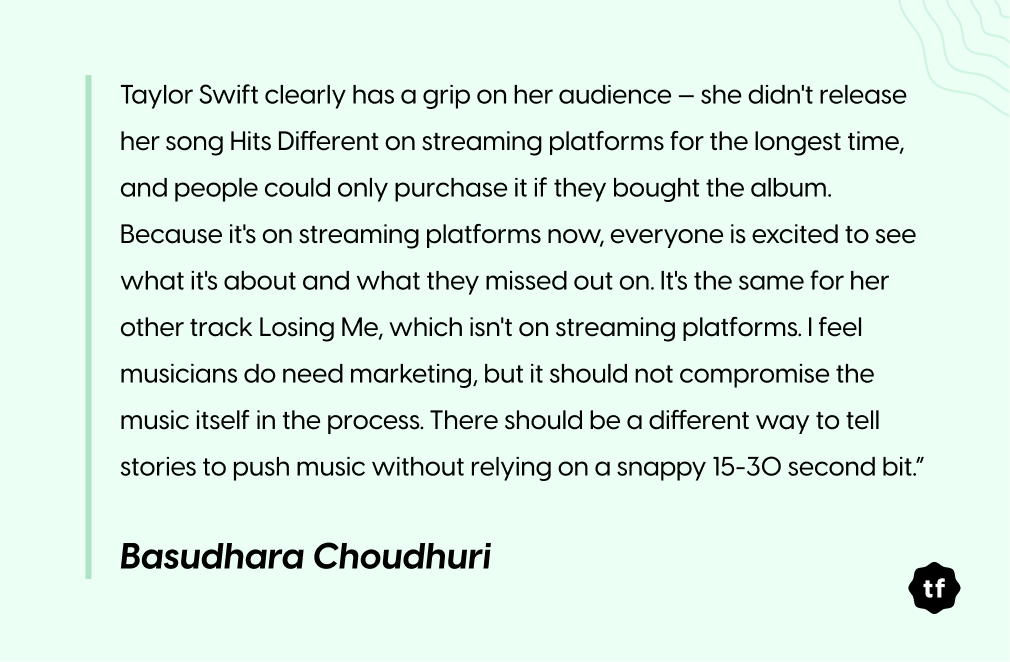 Also read: Duration of songs: How did the trend change over time and what does it mean today?
Viraj adds, "This just shows our patience and attention levels are now really low. 15 seconds is the perfect dopamine release point which is why we enjoy stuff. If the same audience had seen songs in the early 2000s, they'd have hated everything because songs would be 6-7 mins long on an average, and the first minute was a literal set up with just music."
Basudhara also resonates with this thought, and says. "I'll be 27 this month, and I already find myself saying music was better when I was younger. Music earlier was more open to interpretation — more like poetry. Today, music refers to certain relatable situations, and beyond the catchy beat drop or one snappy lyric, the rest of the song might be a bore. I've often looked up songs based on the snappy clip and disliked the entire song. It's like music has to be more marketable than ever — like how some restaurants flaunt their ambience instead of food?"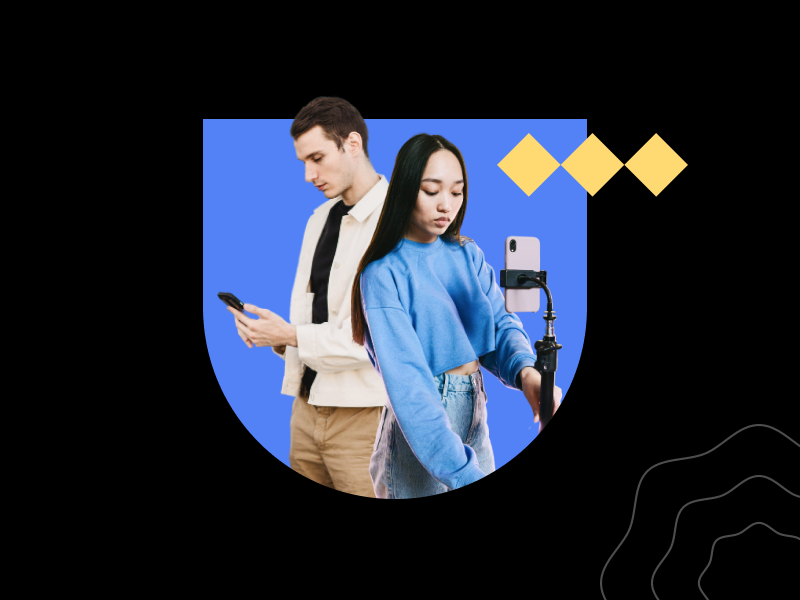 Our attention spans have indeed gone for a toss, but what's worse? Music is no longer personal. Remember the times when you'd proudly say, look, I discovered this song? Well, a million people discover that song along with you.
Unfortunately, creators don't always benefit from this. From competiting with thousands of creators on a single platform to creating music with fleeting shelf life, creators are battling bigger wars in their mind.
How can they be relevant when a different song is a hot cake everyday?
---
Stuff Worth Checking Out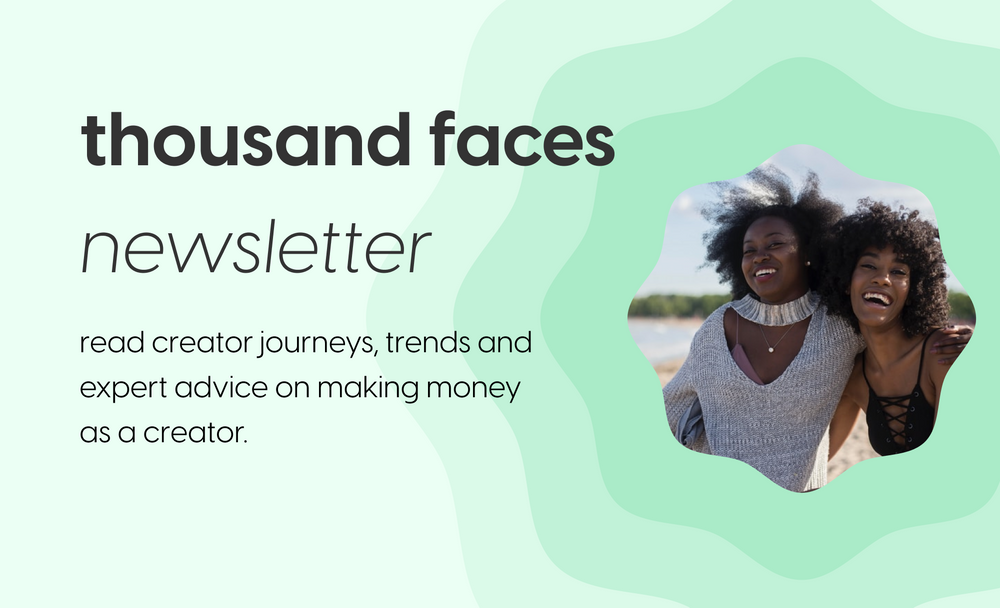 Thousand Faces Club - Newsletter
A biweekly newsletter on creator economy
Subscribe to newsletter