Time just flies when you consume great content. ✨
Have you discovered any new creators? What sort of content have you been consuming?
We've been consuming a bit of music, humor and social media content — like always. And this month, we've decided to throw a spotlight on 5 creators who's content we can't get enough of.👇
---
The Journey of Tim Ferriss
Entrepreneur, investor, podcaster, and best-selling author..we could go on and on because Tim Ferriss is someone with many feathers in his hat! His life is an illustration of ups and downs, but also of his adventures. From exploring China and Taiwan to taking classes in Spanish and Tango — he did several nothing-left-to-lose experiments.
He also wrote a lot to clear his mind and eventually became a New York Times & The Wall Street Journal's bestselling author. We wrote about his journey in a Twitter thread that you can check out. 👇🏼
---
Discover a New Creator: Go 4x4 on YouTube
There are travel videos, and then, there are travel videos that Go 4x4 — an Australian YouTube channel does. With about 906K subscribers, this channel is all about the sights and sounds of the nature. Words are seldom used, and you'll find people traveling, camping, and indulging in outdoor barbecues. 🍗
Go 4X4 offers membership on Patreon that include exclusive access to community, chat, and content. Check out one of their ASMR videos and get psyched! 🔥
---
Discover a New Creator: Let's Not Meet
Do you love horror stories? If yes, you'll love by Let's Not Meet podcast by Andrew Tate.
No, no, not that Andrew Tate. But a different creator!
He hosts this true horror podcast and narrates chilling real-life horror stories; sometimes, he has guests who share their stories. While some stories aren't for the faint-hearted (we mean us), some are super creepy. Don't say we haven't warned you!
Check out the podcast here.
---
Alice Lemée Writes About Creativity, Internet Trends & All Things Interesting
Don't let people tell you that email is dead! 🙉
For we've been discovering some amazing creators writing newsletters — and that's how we stumbled upon Alice Lemée, a freelance writer. Alice runs Internetly, a newsletter which caters to freelancers, digital nomads, and creators.
From teaching you a thing or two about freelancing and creating to suggesting great reads, you should surely check out this newsletter. Plus, she writes helpful threads and tips on Twitter. Check out Internetly here. 👇
https://internetly.beehiiv.com/subscribe
---
Discover a New Creator: Andy Adams
We cannot get enough of Andy Adams' photographs and storytelling!
Andy is a photographer and founder of Flak Photo and manages a community of 18K members. He also writes a newsletter Flak Photo Digest on Substack, where he talks about visual imagery, his experiments with long-form and short-form video and audio content, and photographs.
Two reasons why you should follow him: mind-blowing photographs and super interesting and opinionated stories. Check out his stack here.
https://flakphoto.substack.com/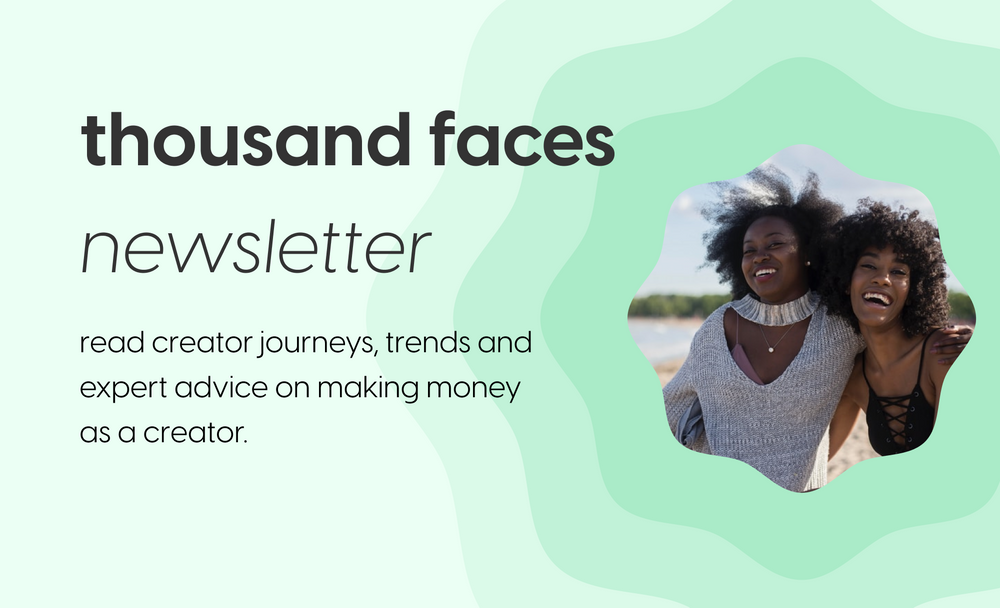 Thousand Faces Club - Newsletter
A biweekly newsletter on creator economy
Subscribe to newsletter