Reading Jason Levin's newsletter 'Cyber Patterns' is a lot like going through a 90s magazine. ✨
From the writing to design — there's a lot of nostalgia, and if you're a millennial like me, you'd know what I mean. That said, it's for everyone who loves a good read. I'd be lying if I say I've been following Jason's content for a long time, because it's his You're Not Unique that got me hooked to his writing.

And what did I have to do after that? Well, have a conversation about content and what made him a content creator in the first place. Today, I'm sharing this conversation with you.
Who's Jason Levin?
Here's a slice from our conversation. 👇
---
Thousand Faces Club: Can you tell me about yourself and what made you start Cyber Patterns?
Jason: I was studying to become a data engineer in June 2021 and getting into tech Twitter. I was reading folks like Naval Ravikant, and Tim Ferriss, and wanted to establish a writing habit. My friend Justin Fineberg started a blog as a way to force himself to write, so I figured I'd do the same. Cyber Patterns originally started as a blog called Brain Blasts where I just talked about any cool ideas I read about that week. In April 2022, I started sending out Cyber Patterns every Sunday and it's been exponential growth ever since.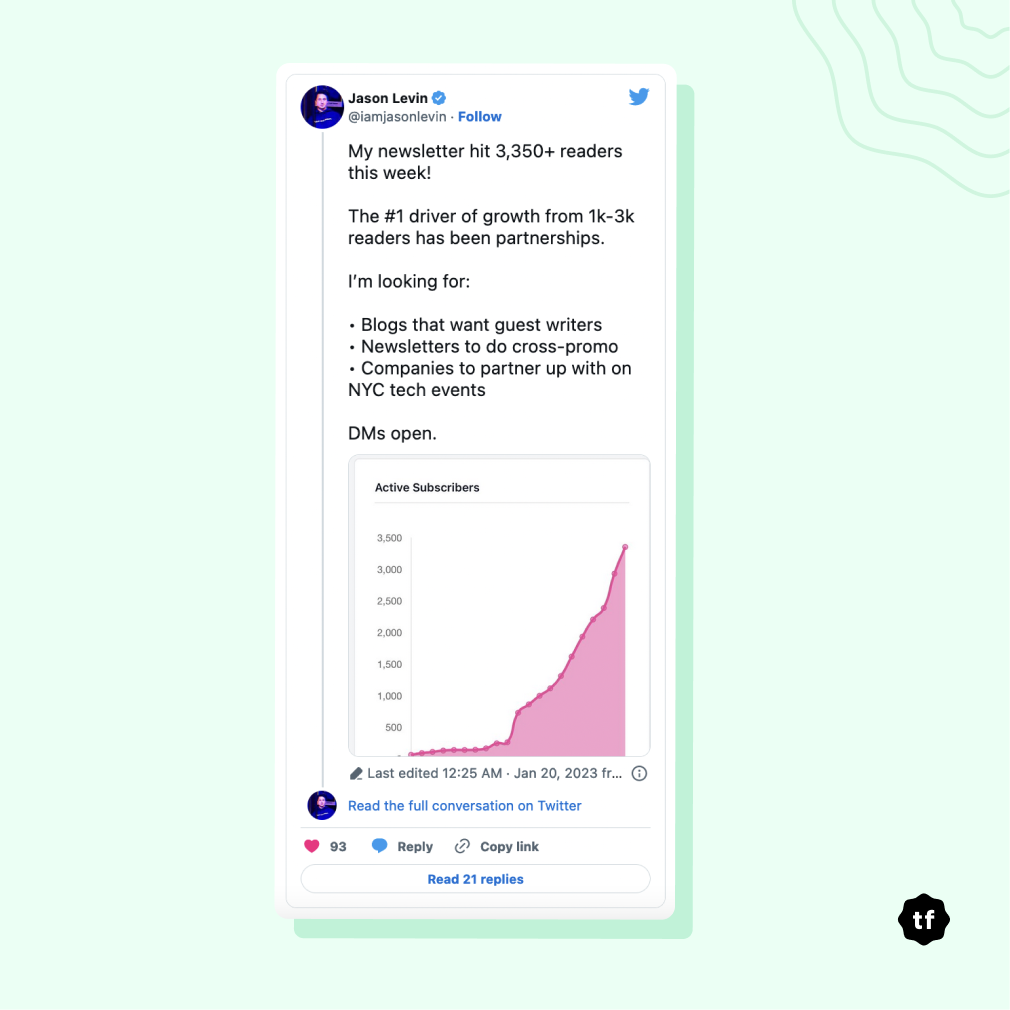 Thousand Faces Club: Awesome! So, many creators struggle to go from 0 to 1. How did you get your first 1,000 followers?
Jason: I've had Twitter since 2011 so most of my first 1,000 followers were friends from high school. Besides that, I spent a lot of time borrowing bigger creators' audiences — writing threads about creators with big audiences in the hopes that they'd retweet me. This is something I still do now even at almost 14,000 followers on Twitter. It's a cheat code to growth.
Check out Jason's book Memes Make Millions on Gumroad. 👇
Thousand Faces Club: Great! How do you approach distribution, and how do you distribute Cyber Patterns?
Jason: In the words of my writer friend Austin Schlessinger, "you've got to hustle for distribution". Austin was going viral every week with his threads, and when I asked his secret, he told me he sends them to 10-20 people every time. I was sending them to no one, so of course, I wasn't blowing up. The following week, I wrote a thread, sent it to friends, and asked them to retweet or comment on it. I went viral and gained a few thousand followers from one thread. If you want distribution, you've got to hustle for it. Cyber Patterns is distributed through my 5,000-person email list, Twitter, LinkedIn, and Reddit. It took a lot of hustling and posting across the internet to get to 5,000 people. It won't happen overnight.

Thousand Faces Club: Your first book, Memes Make Millions, sounds super interesting. What made you pick this theme?
Jason: While grinding on Twitter, I met a few friends who changed my ideas around memes. I met Jack Raines, who was making six figures writing for a finance meme brand's newsletter. Then I met Charlie Light, who built and sold an entire ghostwriting agency for meme accounts. Then I worked with BoredElonMusk and saw he was angel investing in popular startups. It was then I realized memes make millions. Everyone thinks of them as just goofy images, but they're incredible marketing tools. If you use them right, you can get very wealthy.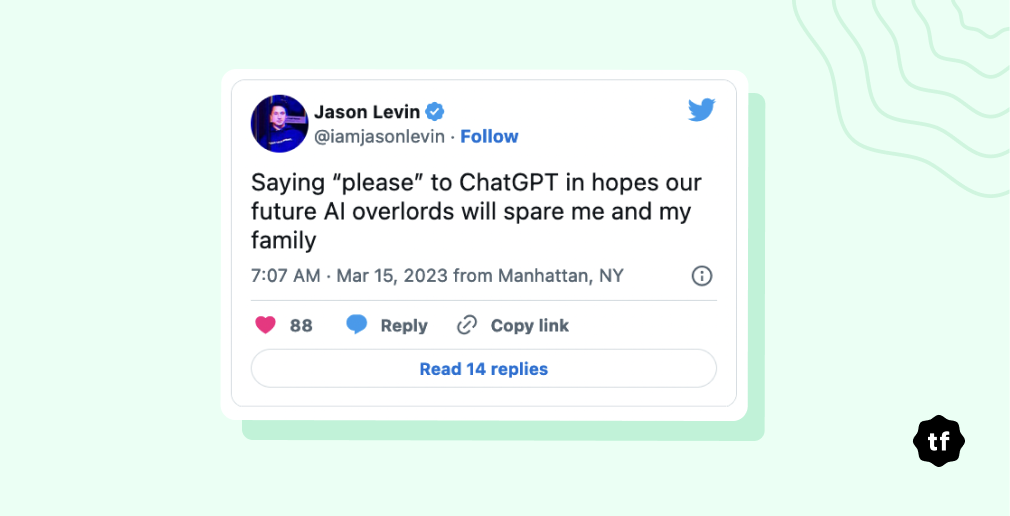 Thousand Faces Club: You write a newsletter and run a content studio. You're also quite active on Twitter — how do you manage your time?
Jason: Lots of coffee.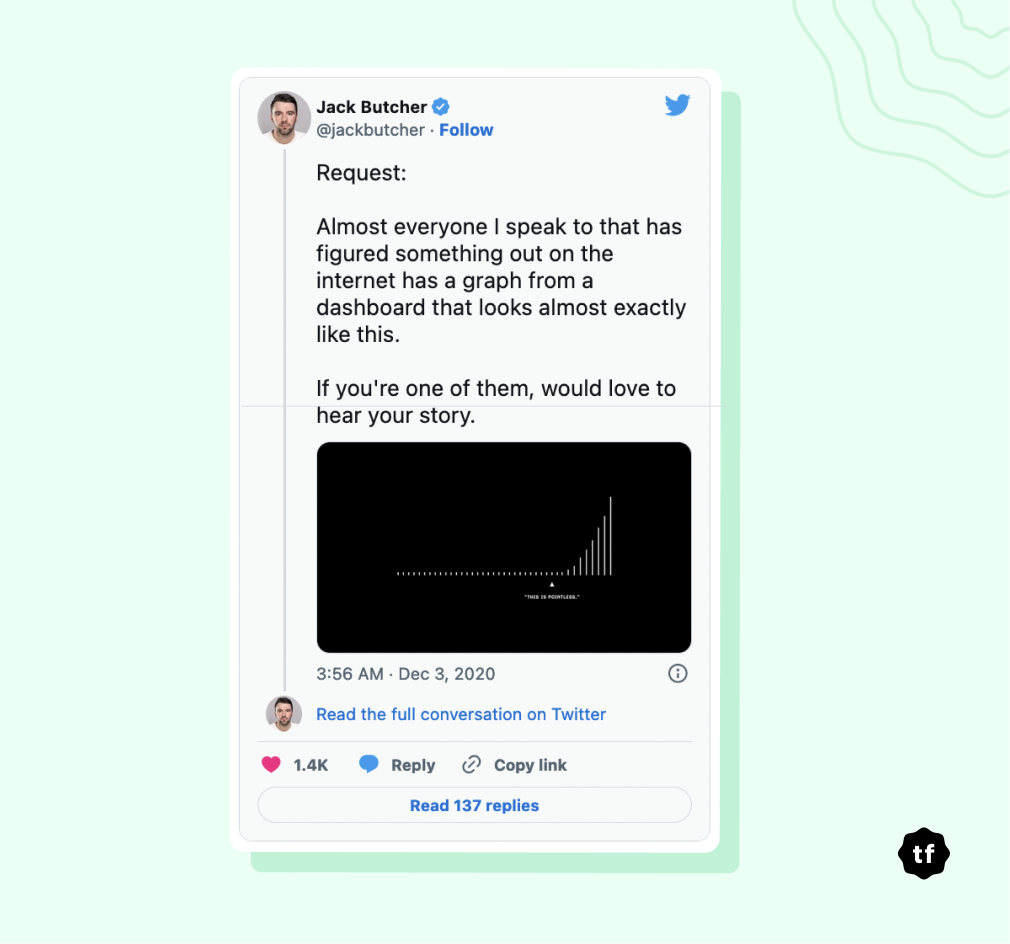 Thousand Faces Club: What are some of the challenges you faced when you started creating content? And how did you overcome them?
Jason: I've been creating videos and writing since middle school, so I've always had that natural creative bug, but I kept quitting and giving up too quickly. I spent 10+ years failing online because I couldn't see anything through. Finally, I saw Jack Butcher's This is Pointless image and realized damn, all I need to do is not give up. If I work hard and persevere long enough, I'll find success. It's been 100% true. Like Butcher said, "Almost everyone I speak to that has figured something out on the internet has a graph from a dashboard that looks almost exactly like this." The same with my friends, subscriber growth, and bank account.
Read this piece by Jason where he talks about 10 years of failing on the internet. 👇
www.cyberpatterns.xyz/p/10-years-losing-internet
Thousand Faces Club: Got any advice for beginner newsletter creators?
Jason: Publish every week for a year, and come talk to me then.
---
So, that was our conversation with Jason. What are your key takeaways from this?
Do you want us to share more such conversations with you? Tell us.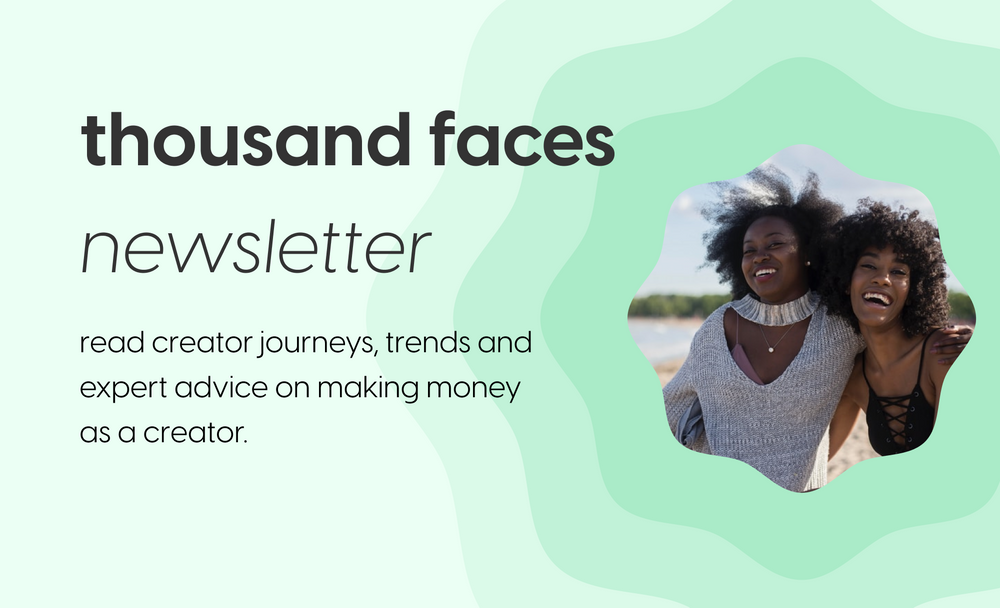 Thousand Faces Club - Newsletter
A biweekly newsletter on creator economy
Subscribe to newsletter