In The Godfather, Mario Puzo may have said behind every successful fortune there is a crime — but behind today's post are hundreds of crimes.
No, really.
Because I bring a conversation with the hosts of Khooni - The Crimes of India podcast, which is one of the most-listed to Indian podcasts. The hosts Sneha G. Sindhu and Aditi met in law school in 2008, and became friends almost instantly — they'd consume true crime content like Criminal Minds, legal drama and mystery shows.
Around 2016, they discovered Apple podcasts and understood how big true crime genre is, and years later floated Khooni. The remaining is history, but I'll let them share their journey.
---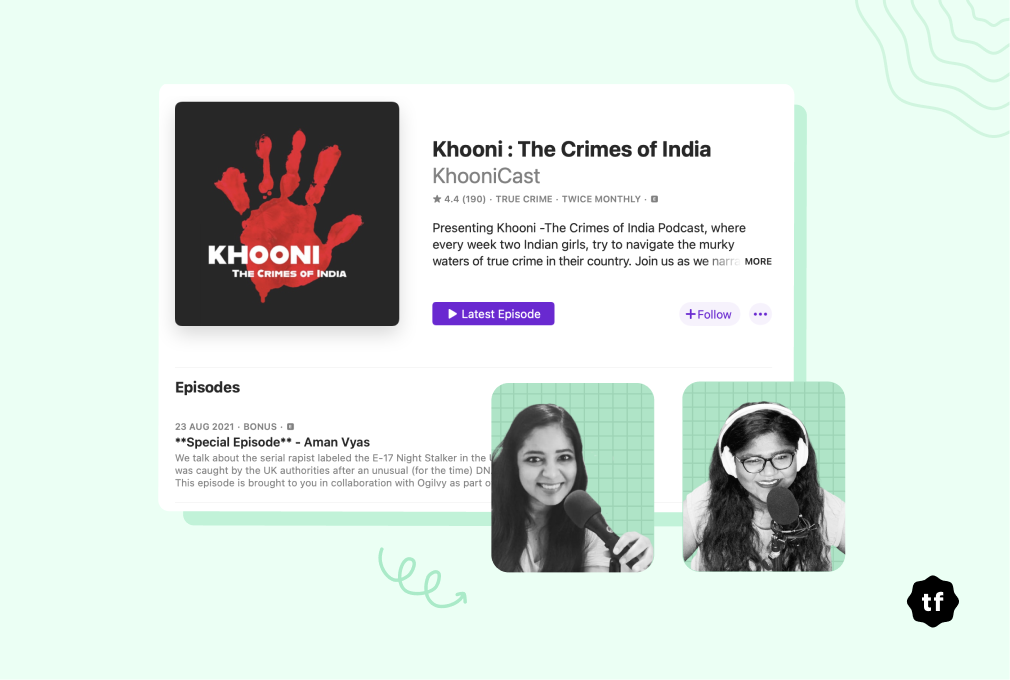 Thousand Faces Club: What made you start Khooni, and do you remember the initial journey?
Khooni: Absolutely. In about 2019, Aditi and I realized we were avidly listening to crime content during our long walks, commutes, or while performing drudgework at our law firms. I remember traveling back from Egypt when I received messages from Aditi suggesting we start a podcast together. This was December 2019, and we planned to launch it in 2020 — we started the research, and the pandemic hit. Luckily I already had a mic and used my credit card points to send Aditi a mic, and in a week, she learned how to edit. We opened an Instagram page to promote our teasers, and launched a small episode. That's how we started!

Thousand Faces Club: Wow, that sounds like quite a start! Talking about your content strategy, what does it encompass?
Khooni: Our content strategy is quite simple — we plan an episode, launch a teaser across our socials, and sometimes, we do Instagram Lives or Twitter AMAs. We also interview other true crime podcasters. While we script the episodes together, Aditi takes care of editing, and I handle socials and interacting with platform representatives.
Watch one of their videos here.
Thousand Faces Club: What was your growth strategy then?
Khooni: We collaborate with other podcasters time and again. For instance, podcasters like Bhaja Podcast and Indian Noir and Aditi gave several interviews, which helped. Plus, we also hosted a live show on Zoom, which had 600 participants, and that helped put the word across.
Thousand Faces Club: Were you ever trolled or received hate speech for being opinionated or for creating the sort of content you do?
Khooni: We get trolled pretty much every day! Whenever we post content that points out flaws in the government or crimes against marginalized communities, we get mean comments or DMs. We've received threats and comments on our appearance or work. Of course, it was upsetting initially, but over time, we've grown a thick skin, and it doesn't get to us. Because eventually, we had to do what we do, and for every five people who hate on us, there are 50 people who like our work.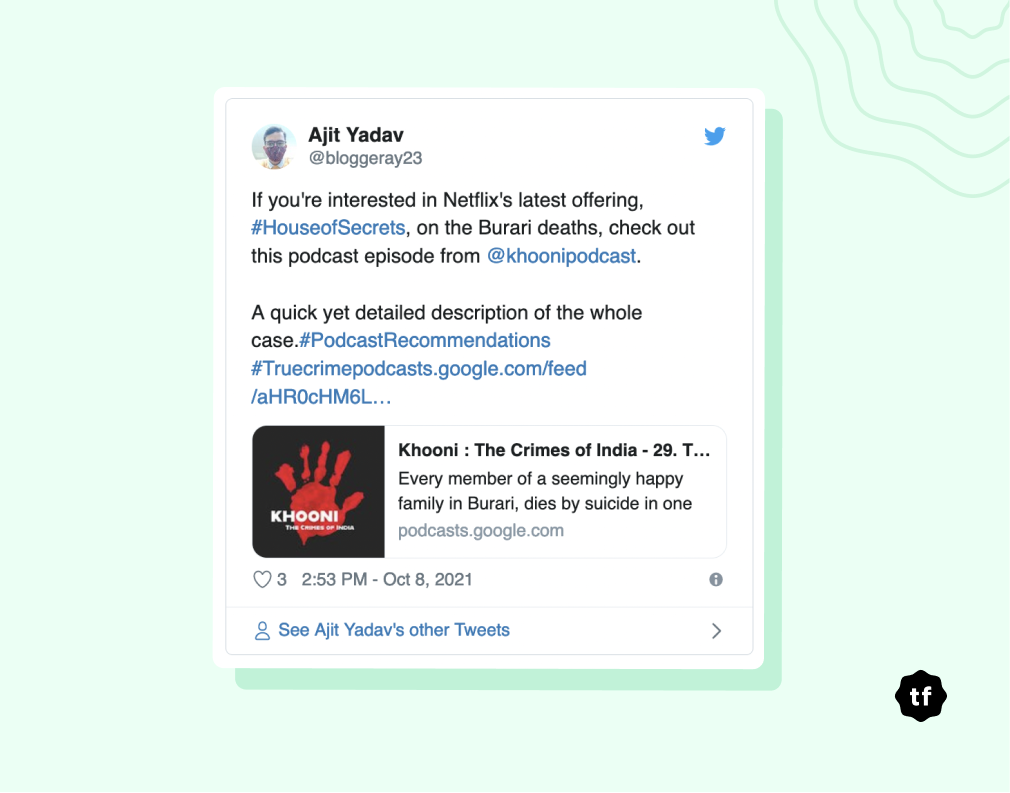 Thousand Faces Club: Right! And that's what matters. Can you tell us which tools were helpful in your podcasting journey?
Khooni: We use Audacity for recording and editing and Trello to plan our workflow. For writing scripts, we keep it simple — we use Google docs to write and edit each other's work. And then, there's Hootsuite for scheduling. Also, we use an AKG P5S Vocal Dynamic Microphone for recording and Focusrite Scarlett 2i2 3rd Gen USB 2.0 for audio interface.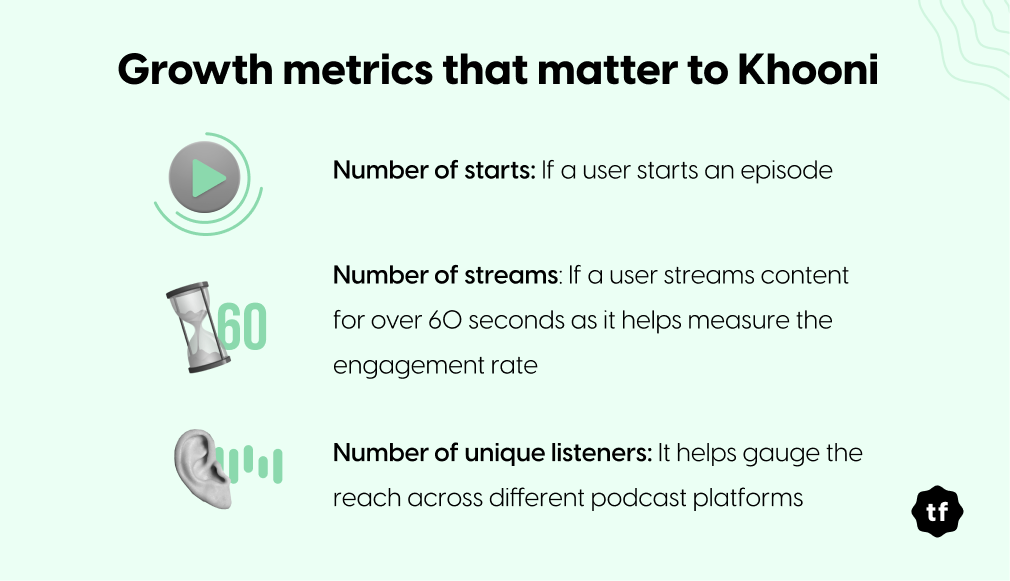 Thousand Faces Club: Can you share any advice for creators getting started on their podcasting journey?
Khooni: Three things! One, if you have an opinion that isn't pulp or a quotidian thought, you will receive backlash but keep at it. It is difficult but continue doing what you do.
Two, have a plan and record at least 4-5 episodes before you start, because you don't know how life will be.
Three, keep upskilling when it comes to recording, editing, and with social media. Your three core skills should be speech and editing as they impart confidence and social media strategy to distribute your content.
Thousand Faces Club: Podcasts you'd like to recommend?
Khooni: American True Crime, The Dropout, and the Dosa King.
Listen to one of the episodes here.
And that was my conversation with Khooni folks!
Who should we bring for our next interview? Let us know in the comments.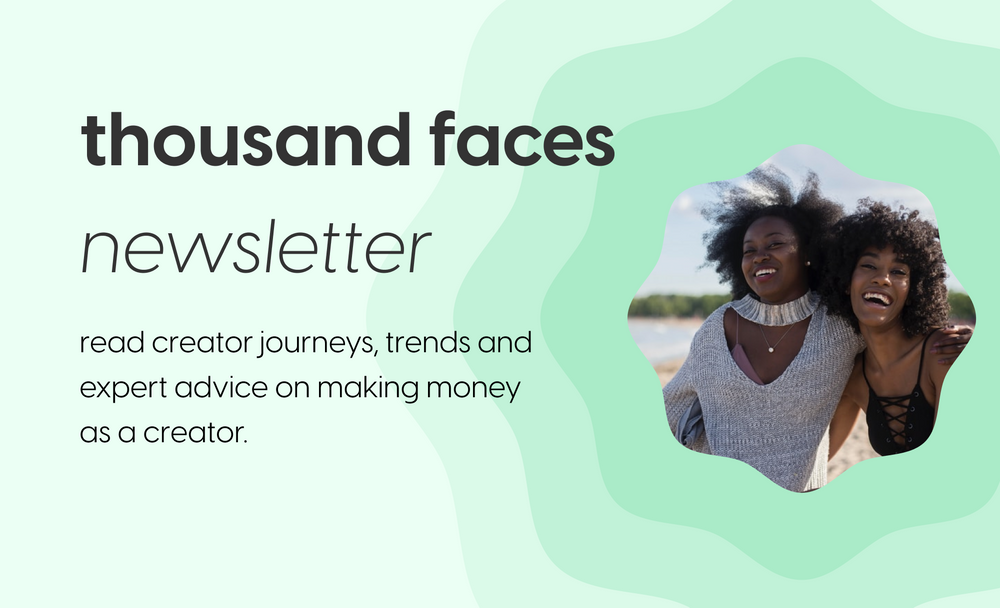 Thousand Faces Club - Newsletter
A biweekly newsletter on creator economy
Subscribe to newsletter