You might've seen her on Filter Copy's videos or Queens of Comedy or Netflix or even on Discovery. There's no denying that Comedic talent Surabhi Bagga has come a long way from a humble beginning.
In this post, I'll discuss her journey.
Who's Surbhi Bagga?
Surbhi Bagga (also known as @SmallTalkPolice) is kinda hilarious and totally candid. She enjoys tickling the funny bones by talking about the struggles of modern dating, freelancing and her astrology obsession. Basically, she is a stand-up comic, writer and podcaster. She rose to fame with her podcast The Overthink Tank.
After graduation in 2015, Surbhi moved to Mumbai, and like most of her peers, she looked forward to a 9-5 job. Although she started out as a copywriter in an advertising agency, she wasn't satisfied. Neither with the pay nor the environment but she couldn't quit either.
💥 Where it all changed
Surbhi looked for an outlet to let out her frustration.
She had a friend who was into standups, and they both attended open mics and watched people perform. One day, out of the blue, they decided to write their set and perform!
Surbhi performed for the first time at The Habitat in Mumbai (Tuning Fork back in the day). She got an early evening slot and her flatmates were so excited to see her perform. And it went great! But it wasn't a career move per se, she kept doing stand-up as a side hustle.
Surbhi moved to Delhi and continued with her gigs there. There, she got a call from Queens of Comedy, a show to air on TLC Nework. She had to submit a video to qualify — she submitted her very first attempt on stage. She not only qualified but made it to the finals!
🎙 Becoming a podcaster
Starting off as a sketch idea, Surbhi created The Overthink Tank in 2019 as she received an overwhelming response from people sharing their problems, who were ready to overthink with her.
Basically, she overthinks your problems for you, so you don't have to. Doesn't that sound super fun?
💡
She recorded the first episode on a mattress; the next 15 on a couch, and the third season from a studio. The podcast attracted 15 lakh listeners over two years. Each episode features a guest and fun conversations about different themes like impostor syndrome, friendships, etc.
In due course, with IVM Podcasts, Surbhi went on to produce seven podcasts and hosted two: Dating is Garbage and IVM Likes. She looks forward to entertaining the mass by doing more stand-up comedy and comedy writing.
Check out one of her episodes here. 👇
Surbhi has nearly 30K subscribers on YouTube.
Found this quick journey interesting? We'll be back with another journey next week. 👋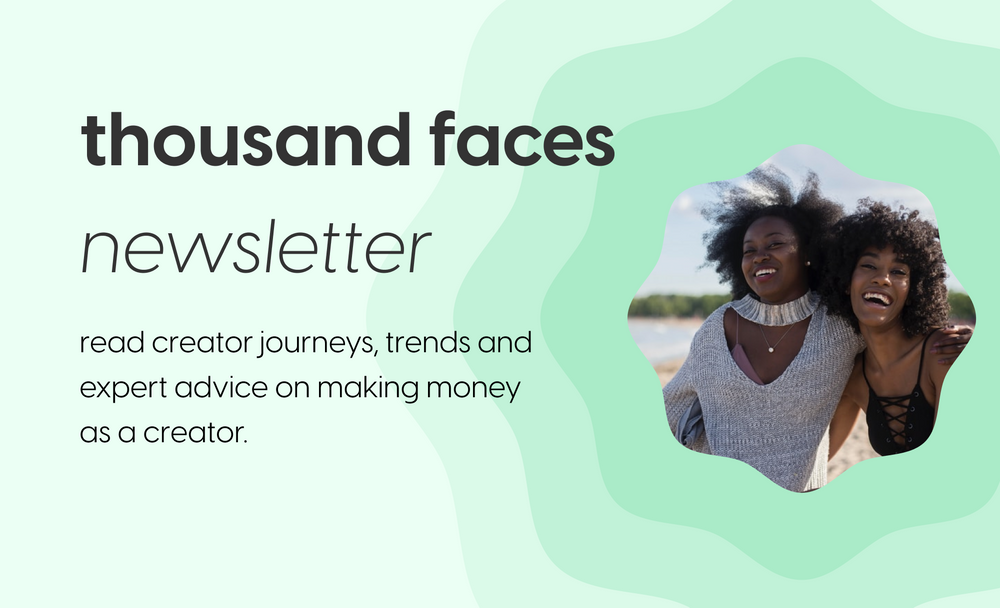 Thousand Faces Club - Newsletter
A biweekly newsletter on creator economy
Subscribe to newsletter